I absolutely adore all Homer + Howells patterns, so when Nic and Susan asked me if I wanted to be part of their testing team, I couldn't say no.
Ingrid pattern is an asymmetrical dress pattern with unusual bust tucks, instead of traditional bust darts. It comes in two different lengths and two different type of sleeve –  straight and puff.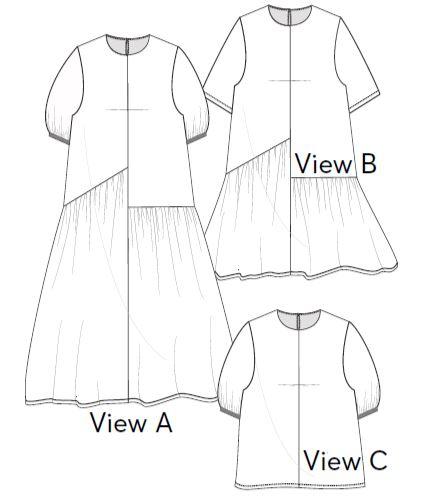 I chose to make option B, a mini dress with straight sleeve.
When we test patterns, we have a slack group where we share our progress with each other (soooo helpful), so i got to see this pattern made up in many different ways before chosing my fabrics. This is my most important top tip when it comes to this pattern: the bust tucks are a central focal point on this pattern, if you chose a geometric shape such a gingham, the tucks will distort your geometric print. It may look like a mistake in the print.
If you opt for a non patterned plain fabric, the tucks will look like a beautiful design feature. So my advise would be to go for either plain fabric or a busy print, rather than geometric print.
I chose to make mine in Mind the Maker Nisa Softened Cream Linen. I was worried that it would be a little bit see through, but i can just about get away with it, especially if i wear skin colour underwear.
This is one of rare dress patterns, where less drapey fabric like cotton poplin or linen will accentuate all design features. This will also look beautiful in taffeta or seersucker.
The pattern is suitable for confident beginners, you will learn how to do pockets, facings and gathers, so from technical point of view, it is absolutely a pleasure to sew. Here is my second top tip: front, back, left and right patterns of bodice and skirt are all different, so it is very easy to get confused especially if your fabrics looks the same on both sides. So make sure you snip ALL notches as they will help immensely with assembly. As well, mark with chalk or erasable pen wrong and right sides
Once you have figured out the panels, it is very straightforward to sew.
I have cut size 10. My measurements where in between size 10 and 12, but looking at finished garments measurements and the amount if ease in this pattern, i sized down. The only modification i have done, i shortened all bodice panels by 3cm. For reference, i am 5'4.
I absolutely adore this style of the dress and i can see myself wearing it a lot during summer. It looks great with trainers, sandals and heels.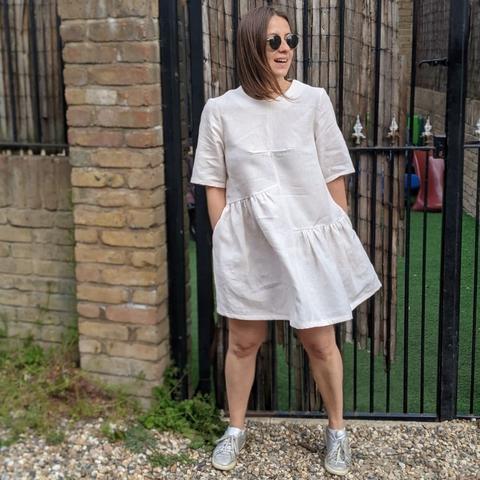 Would i make this pattern again? Absolutely. But i would be tempted to make 2 patter hacks.
First, i would make a sleeveless option and add armhole facing.
Second, if i was to use gingham or any other bold print, i would move bust front tucks to traditional side bust darts in order to keep clean lines.
Lastly, i love the idea of making a winter version of this dress in cozy flannel. For this winter version i would lengthen the sleeve.
Hope you found this useful. Head over to Instagram and check out #HHIngrid for more inspiration.
Polina